Sacred Pilgrimage to Israel 2013
Only one month left to sign up for Celebrating Life's pilgrimage to Israel. Many of our Ordained Monks & Ministers are joining Rev. Paul on this sacred journey. If you are called to join us please email
celebratinglifetrina@gmail.com
for more information.
We are excited to announce that Celebrating Life Ministries is taking a pilgrimage to Israel, October 1-10, 2013. Join Rev. Paul Funfsinn and friends as we experience the loving presence of the Holy Spirit in the Holy Land of Israel.
In this awe inspired sacred journey, we will gather as an intimate group to explore Israel's rare and mystical spiritual sites. This
personal voyage is designed to allow participants to rediscover their faith as they walk the sacred pathways where Jesus once walked.
---
Upcoming Events
Our Vision
Celebrating Life is a growing and active interfaith spiritual community that nourishes itself and the global community through the Divine Presence in the form of loving service, devotion, and prayer. We provide healing services, spiritual growth programs, and gatherings for our spiritual family to experience, harness and expand the loving presence of the Holy Spirit in our individual and collective ministries. Celebrating Life Ministries also offers healing services, education programs, sacred travel opportunities, and semi-annual retreats to the general public.

For assistance in navigating our site, please contact us at admin@ronrothmedia.com. We hope you enjoy our web home.

Love God, Love Others, Love Yourself

Make sure to sign our Guest Book before you leave.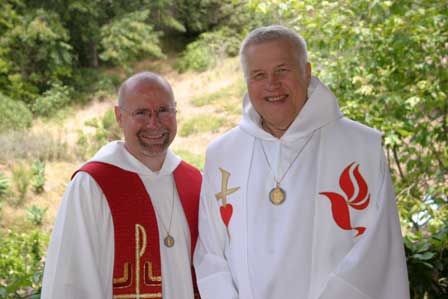 Co-founders Paul Funfsinn (L), Spiritual Leader and Director of Celebrating Life Ministries and the late Ron Roth (R), Spiritual Shepherd Emeritus.