We are happy you are choosing to support Celebrating Life Ministry. We are a not for profit organization and currently exempt under section 501(c)(3) of the Internal Revenue Code. We are also classified as a public charity under the section 509(a)(2) of the Internal Revenue Code.
Please fill out the amount you wish to donate, from the drop down menu please select if this donation is a one-time or recurring offering and then click the "Add" button. This will automatically add the amount you specified to your shopping cart and any recurring donations will be charged to your credit card at the appropriate time.


We want you to know that any size donation is appreciated.  You can also call our office at 1-877-380-7748 and we will be happy to take your donation over the phone.   If you prefer, you may send a check to Celebrating Ministries at PO Box 1064, LaSalle, IL 61301
---
Tax Relief for Gifts from IRAs
 If you are interested in this opportunity please contact: Paul Funfsinn 815-224-5730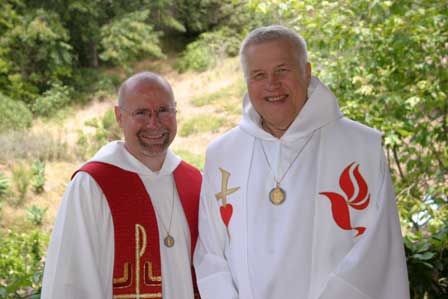 Co-founders Paul Funfsinn (L), Spiritual Leader and Director of Celebrating Life Ministries and the late Ron Roth (R), Spiritual Shepherd Emeritus.