*** Join us for CLM's FALL Healing Retreat ***
November 17-20, 2016 ~ San Rafael, California

Our Vision
We are a thriving, vibrant spiritual community devoted to a direct experience of the Divine, helping all people in their spiritual walk with the Holy Spirit toward living Christ consciousness, as embodied by Jesus the Christ, the Prophets, and the other great Enlightened Masters of all ages and traditions. Our community is rooted in the principle that there is only one religion, the religion of love.
Upcoming Events, Retreats & Pilgrimages
Events Calendar
Date
Event
Location
Jul 27 - Aug 01
Two Week Viewing - LIVE STREAMING - WOH Event
Novata, CA
Aug 12 - Aug 14
Private Retreat - Students of CLM
Darien, IL
Aug 14
Prayer & Healing Service - Open to the Public
Darien, IL
Aug 19 - Aug 21
Private Retreat - Monks & Ordained of CLM
Darien, IL
Sep 10
East of Heaven Event - Center For Spiritual Living
Morristown, NJ
Sep 13
Prayer & Healing Service - St. John's Church
Allentown, PA,
Sep 15
Evening Healing Service - Inspiration Healing Center
Staten Island, NY
Nov 17 - Nov 19
MEAL PLAN Package - Embassy Suites
San Rafael, CA
Nov 17 - Nov 20
CLM's Fall Healing Retreat - Embassy Suites
San Rafael, CA

View All Events...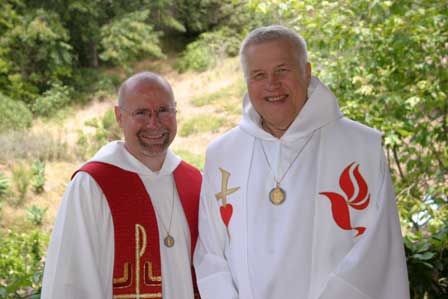 Co-founders Paul Funfsinn (L), Spiritual Leader and Director of Celebrating Life Ministries and the late Ron Roth (R), Spiritual Shepherd Emeritus.

Join CLM's Mailing List
Safe & Secure
Online Payments